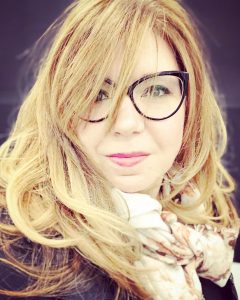 Sarah Volpi è una Telecineoperatrice, Filmmaker e producer freelance.
È nata a Milano, in Italia, e ha studiato alla Civica Scuola del Cinema. Dal 1999 ha girato per la famosa rete televisiva americana "Bloomberg". Ha partecipato al Vancouver Film Festival in Canada con il cortometraggio "Al di la bene e del male" e ha vinto come direttore della fotografia. Ha ampliato la sua professione in diversi ambiti, dalle notizie e interviste ai profili aziendali, lungometraggi, spot pubblicitari, cortometraggi e convegni. Ha realizzato filmati in diversi formati tra cui P2 HD PAL e NTSC, Digital Betacam, 16 mm e 35 mm, oltre che riprendere e scattare per musica e Web TV. Ha lavorato in molti paesi – come il Regno Unito (Londra); Olanda (Amsterdam), Germania (Francoforte); Francia (Parigi); Malta (La Valletta), Grecia (Atene); Polonia (Krynica) – sperimentando una vasta gamma di condizioni di registrazione e di ripresa. Ha lavorato per molte produzioni straniere, sia in Italia sia all'estero. Il suo filmato è stato trasmesso da molte reti televisive di tutto il mondo, come: CNBC USA, TV Tokyo, Sky Italia, RAI, Mediaset, LA7 e altri. È giornalista per la stampa italiana e straniera. Sarah è al passo con i tempi: oggi segue le nuove produzioni digitali come producer/DoP/operatore MdP; sport Live come controllo di telecamere, musica jazz/pop e ora ha un nuovo Desk a Milano. Un nuovo progetto girato con Arri Mini Alexa sarà presto realizzato.
Sarah Volpi is a freelance cinematographer, filmmaker and producer.
She was born in Milan, Italy, and studied at the Civica Scuola del Cinema. Since 1999 she shot for the famous American TV Network "Bloomberg". She participated at the Vancouver Film Festival in Canada with the short film "Al di la del bene e del male" and won as a director of photography. She mastered her profession for all kinds of projects, from News and interviews to company profiles, feature films, commercials, short films and conventions. She carried out footage in several formats among which P2 HD PAL & NTSC, Digital Betacam, 16mm & 35mm, as well as shots for Music and Web TV. She worked in many countries – like UK (London); Holland (Amsterdam), Germany (Frankfurt); France (Paris); Malta (La Valletta), Greece (Athens); Poland (Krynica) – experiencing a wide range of recording and shooting conditions. She worked for many foreign productions, both in Italy and abroad. Her footage has been broadcast by many television networks around the world, such as: CNBC USA, TV Tokyo, Sky Italy, RAI, Mediaset, LA7 and others. She is a journalist for the Italian and foreign press. Sarah is up with the times: new digital production as a producer, live sport as a camera control and now she has a new Desk base in Milan. A new project with Arri Mini Alexa will be done soon.